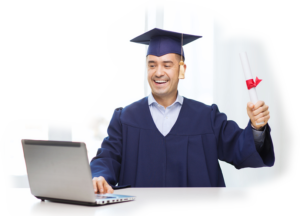 Most employers today are more likely to hire people who have earned a high school diploma over someone who has not. For the adults wishing they could go back to school, it no longer has to feel like an impossible task. Fortunately, at International Virtual Learning Academy (IVLA), a solution has been found so that you, the adult learner, can now fulfill that dream!!
If you are 19 years of age or older and have not yet earned your high school diploma, IVLA's Online Adult High School Diploma Program can help you to become a high school graduate. We are committed to your success and will work with you every step of the way. Our teachers and staff understand the needs and time constraints of working adults.
ADULT ED – How it Works
Now you can earn your High School Diploma in as little as 18 months
For Students 19 years and older
Pre-Test for each unit will determine placement and/or exempt students out of skills they already mastered
Includes 10 hours of Time4Tutoring for additional help
Cost: $150 Registration fee (non-refundable)
Tuition: 10 monthly payments of $160/month or save $100 by paying in full $1500
Student has 18 months to complete ALL courses and can work on up to five courses simultaneously
Required Courses
English: English I • English II • English III
Math: Algebra I • Geometry
Social Studies: World History • U.S. History • U.S. Government • U.S. Economics
Science: Physical Science • Biology
Life Skill: Personal Finance • Career Essentials
Visual Arts/Humanities: Art Appreciation
CTE (Career & Technical Education): Computer Literacy
We will look at your transcripts and determine what courses are needed.
Offering Encouragement & Support
When you enroll with us, an advisor will be assigned to you who will encourage and support you every step of the way. By tracking your progress, your advisor will give personalized attention and will work with you by removing any obstacles which may have hindered you from completing high school in the past.
The Value of a DIPLOMA vs. GED
It s a known fact in the job market place, an actual high school diploma will carry more weight than a General Equivalency Diploma (GED).
International Virtual Learning Academy is accredited and an approved Diploma Granting Academy which means when you earn a high school diploma at our private school, it will be accepted in the same way as a diploma from any other high school in the country.