For students who need to recapture credit for  previously completed courses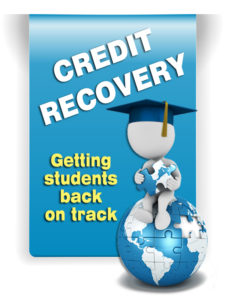 International Virtual Learning Academy (IVLA) offers Credit Recovery courses that play an important role in keeping students on track for their high school graduation. Our credit recovery solutions have been designed specifically to meet the needs of students looking to recover credits for courses they have previously taken.  The same standards-based content ensures that all students are mastering the skills necessary for success.
IVLA's Credit Recovery Program includes prescriptive pretests to identify what a student has already learned and to show areas of deficiency for each unit of content. An individual learning plan is automatically generated based on pretest results to direct each student to the specific material he or she has yet to master.
How credit recovery works & how to get started: 
Transcripts required upon enrollment
Student is responsible to get prior approval for credit recovery course from their school using our credit approval form
Then… based on assessment results – options are:
9-week course for half credit courses
18-week course for full credit courses
Summer Credit Recovery Option (from June 6 – August 26):
6-weeks for half credit
12-weeks for full credit
Note: Students are excused from studying material they have already mastered and are allowed to focus on key missing skills.
Teacher will oversee student progress and approve final grade
IVLA Student enrolled in Credit Recovery Program ONLY, does not qualify for a mentor or IVLA clubs
Half Credit Course = $199
Full Credit Course = $299